How to Design a Decent Website from Scratch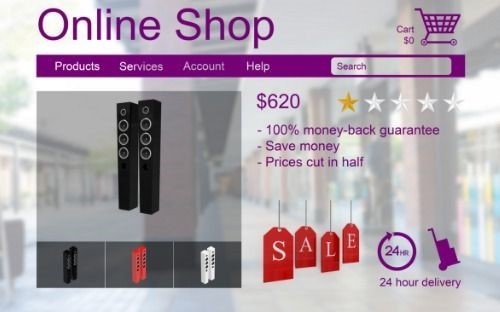 If you are a small business owner, you may lack the needed funds to hire a good web designer. And yet, you know that any business should have an online presence. If this is you, fear not, because this article will teach you how to build a decent looking website from the ground up, without writing a single line of code.
Any site has an address (also called "URL"), a human readable name that must be typed into a browser to get to its location. You will need to purchase a domain name, the right to use that address on the web. You can do that by visiting a website such as GoDaddy.com, and then type in your business' name in the "Find your perfect domain name" field. Let's assume that your business is called "Fresh Roses"; just type those words into the box, and you will be given several suggestions.
I have discovered that freshroses.com is already taken; I bet that somebody else picked up that domain many years ago. GoDaddy will suggest a few dozens of domain names, though, such as freshroses.info, freshroses.store, freshroses.today, freshroses.me, and so on.
Unfortunately, search engines tend to love domains that end with the .com extension, so those GoDaddy suggestions aren't that helpful. Nevertheless, we can use a so-called instant domain name generator - Nameboy, for example - to get lots of related ideas, such as myfreshroses.com, shopfreshroses.com, and so on.
Please note that domain names should be short, punchy and relevant; don't go for yourfavoritefreshrosesstore.com, when you can pick something that's much shorter. Take the time to do your research, because that domain name may shape or reshape your entire business.
Once that you find a good name, be sure to snag it right away; somebody else may like it as well! You will need to pay about $20 per year to keep the right to use it; if you forget to make the payment, the domain name will become available, and somebody else will be able to buy it. Don't worry, though, the service providers will send you several emails when it's time to renew your domain.
Okay, so now that you've gotten the domain name of your dreams, what comes next? Well, you need to purchase a hosting account, of course! To be visible online, your website must be kept on a server. Yes, the content of your site will be stored on a specially built computer, which is connected to the Internet 24x7x365.
While you can find decent hosting accounts for $6/month, it is much better to use a dedicated hosting platform, which utilizes cloud-based servers and has a much better performance and uptime. Weebly and Wix are two powerful platforms that offer free what-you-see-is-what-you-get website builders and will also host your site. Their prices start at only $10/month or so. I said that their prices "start" at $10/month because once that you are in, you will be tempted to purchase several powerful add-ons: commercial email addresses, visitor analytics modules, email marketing systems, etc.
The good news is that these platforms will help you create a good-looking site quickly; they've got lots of templates, and you simply can't go wrong by choosing one of those that match your business' requirements. Just pick the desired model, and then customize it to your liking using the WYSIWYG editor.
Yippee! Your site is ready to go live, right? Well, not really. You still have to create content for each page before showing your future online empire to the world. Craft your content carefully or hire people who do this for a living if you don't have a way with words. Then, publish your site and start promoting it using the most popular social media websites.